A Ride With Bob is coming back February 20-24, 2013.
These will be the final Austin performances of the original production, so you don't wanna miss this. And we'll be in a very intimate brand new state-of-the-art facility that is just opening called Zach Topfer Theatre.

We are pleased to offer a special pre-sale to YOU on Monday, October 8th. Remember, there are only about 400 seats per show, so we strongly suggest that you get your seats prior to the Monday 10/15 general on-sale. Tickets go on sale (through this secret link only) on Monday at Noon Central Time.
2011 Tour Dates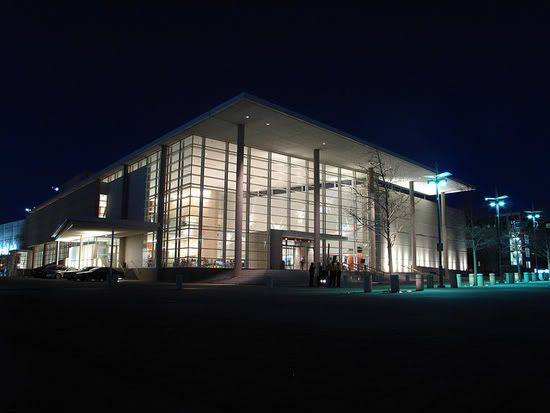 There will be a special New Year's Eve Party at the Renaissance Dallas-Richardson Hotel with musical entertainment by Asleep at the Wheel and The Quebe Sisters Band. The party is an additional $50 and open to all who purchase a ticket to any performance of the show. In addition, the Renaissance Hotel is offering a special package during the run of the show. Call 972.367.2000 and mention promo code LRR.
-----------------------------


2011 Press
Ray Benson sits down with KPFT's Roark Smith for a 15 min interview about the play: Watch it here.
Ray Benson, Jason Roberts, Tim Curry and Colby Sheppard stopped by Houston's Fox News to play a cut from the musical: Watch it here.
Listen to Ray on Houston's KUHA here.
-----------------------------
2010 Dates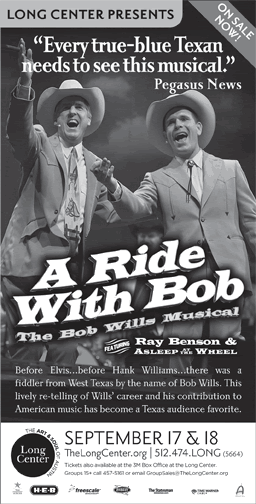 -----------------------------
Thanks to all of you who attended the performances in Richardson and Abilene in July. Our most successful shows yet!
Here is a review from our performance in Richardson: Pegasus News Review
-----------------------------
Another Big Success: Ruidoso, NM Spencer Theater run was extended to five shows. Thanks to Hubbards and Chevron for making these shows possible.
-----------------------------
2009 Dates
2009 starts with a bang! Shows in Elko, NV, Austin, TX Galveston, TX, and Richardson, TX, played to packed houses.
Click here to see the Ray Benson interview about the play.

"The full capacity audience sat spellbound through the entire performance, grinning ear to ear from start to finish. And no small wonder, for A Ride with Bob Wills was an amazing stage production. To sum up the show in two words – Absolutely Fantastic!" - Elko, NV, Review http://cowboyentertainer.blogspot.com
-----------------------------
Spring 2008 Tour Breaks All Records!
WOW! Thank you to the almost 13,000 fans who attended the January and February 2008 shows in Texarkana, College Station, Ft. Worth and Galveston! We had no idea our little show would hit it so big! We deeply appreciate your support.
-----------------------------
Fall 2007 Tour is another success!
Our Arkansas Debut is a big success in Conway!
Austin Paramount filled to the rafters for two shows!
Amarillo: Like a big Family Reunion!
Shows on May 25-27 were exceptional at the great-sounding Globe-News Center. Lots of Bob Wills fans from Hall County and beyond! Click Here for coverage.
Coverage from Galveston January 2007 Shows
National Public Radio Interview
Prez & Mrs Bush Take A Ride With Bob at Kennedy Center!
June '06 tour was a Smash!
Liz Smith raves about A Ride With Bob!
Coverage from the New York Post. Click on "Forum" and go to the "A Ride with Bob" discussion for more info.
A Ride With Bob T-Shirts & Posters
Now available for purchase here (click on "Store")